Agencies Food Distribution Network
Responsible for the relationship between Harvest and the 325+ food banks, schools, soup kitchens, daycares and other agencies alleviating food insecurity across Manitoba. The team creates and assembles orders in our Winnipeg Warehouse and facilitates pick-ups and deliveries to food banks and other agencies across Manitoba.
Volunteer Services
The role of the Volunteer Services Department is to provide a meaningful volunteer experience to community members wanting to help their neighbours. Volunteers are integral to Harvest; without volunteers we could not achieve our mission. Volunteers support the operations of Harvest by picking up food, sorting food, creating hampers for clients, distributing hampers to food banks, answering phone calls, supporting community food & fund drives, and the list goes on.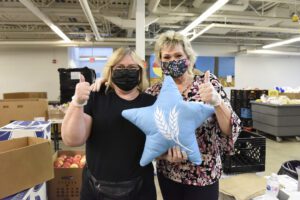 Warehouse Department
The role of the warehouse department is to safely collect, store and redistribute food to agencies across Manitoba. With a fleet of 15 trucks and vans with the work of  CREW members and volunteers, each month the warehouse collects nearly a million pounds of food a month from food partners across the province. This food is then created into hampers, then the warehouse team provides these hampers to over 350 agencies across the province.