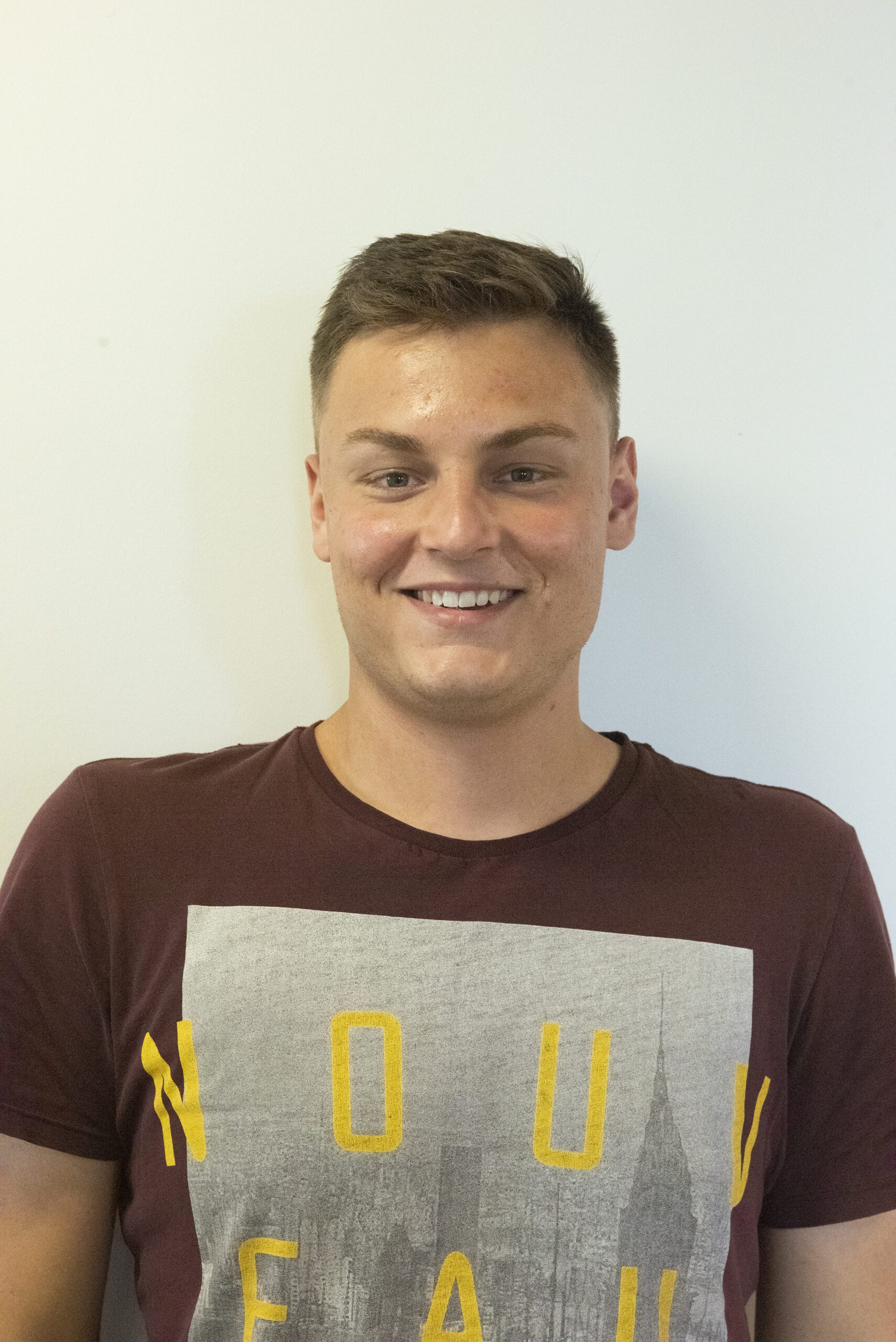 Volunteer of the Month: Manuel Pfannkuch
October's volunteer of the month is Mellisa Caballero.
Manuel Pfannkuch from Gersbach, Germany, joined the Harvest warehouse team through the Christliche Dienste program, which is a Mennonite initiative that provides volunteer services abroad. Before working in the warehouse, Pfannkuch was placed with the volunteer services team. The Christliche Dienste program chose to place Pfannkuch at Harvest.
"He was shy and timid at the start but learned fast.  Working with the volunteer services team, his responsibilities have grown so much and his courage has grown too. He can work as hard as anyone else that appreciates and loves what Harvest does – help feed the hungry," said Snookie Tumlos, Volunteer Services Floor Supervisor.
Pfannkuch loves sports and before he came to Canada he finished his college studies. He plans on becoming a German police officer.
"I want to help the world. I want to catch the bad guys and then just want to make the world better. That's my dream for 18 years and I would absolutely do that forever," said the 21-year-old.
His journey to Canada began in Germany when he was looking for positions overseas. Pfannkuch said he missed an opportunity to come in 2019 because all the positions were taken, but he waited and in November 2020 he was able to find a spot to come to Canada.
"I like (working at Harvest) a lot and I like the people. My coworkers are very, very nice and that makes working so much better. They are also friendly. If I don't know something they explain everything and it's pretty nice to talk with them and to know their journeys," he said.
He said being the volunteer of the month is a good feeling.
"It's good for appreciation and every day I give 120% so that's nice. They see that I do a lot in the day and I return 120% to finish everything on time… To help people in every single stage if they need help…Help them in every single situation."
Pfannkuch said he likes Canadian nature and that people in Winnipeg are very nice. This led to him extending his stay in Canada. After Winnipeg he will travel with his friends to Alberta and British Columbia before leaving Canada for Iceland and then to the police academy in Germany.
He said his journey to Canada and the experiences he's had here have turned him from a boy to a man. "(I've learned) how to handle different characters here. I just met so many different characters here and (I learned) how to handle people and how to talk with them…"