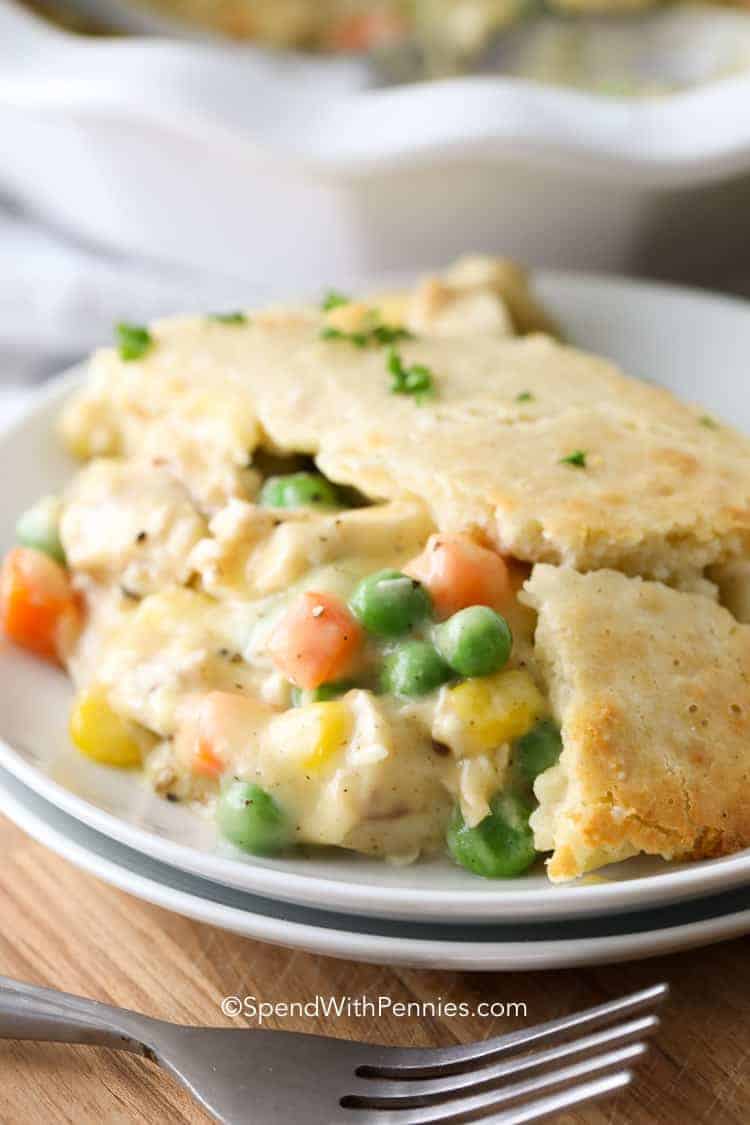 Easy Biscuit Chicken Pot Pie
Source: Spend with Pennies
Ingredients:
 2 cups frozen vegetables
1 ½ cups chicken cooked & diced
1 can 10.5 ounces cream of chicken soup
¼ teaspoon poultry seasoning
salt & pepper to taste
¾ cup milk divided
1 cup biscuit mix such as Bisquick
1 egg
Directions:
Pre heat oven to 350F.
Combine vegetables, chicken, soup, 1/4 cup of milk, and seasoning in a 9" deep-dish pie pan.
In a separate bowl, combine biscuit mix, egg, and remaining 1/2 cup of milk. Pour over the chicken mixture.
Bake uncovered for 30 minutes or until lightly browned.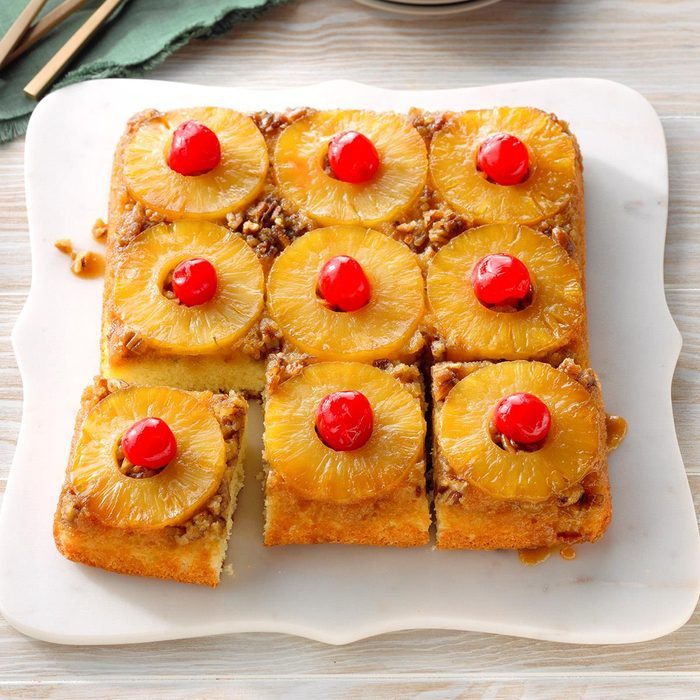 Classic Pineapple Upside Down Cake
Source: Taste of Home
Ingredients:
1/3 cup butter, melted
2/3 cup packed brown sugar
1 can (20 ounces) sliced pineapple
1/2 cup chopped pecans
3 large eggs, separated, room temperature
1 cup sugar
1 teaspoon vanilla extract
1 cup all-purpose flour
1 teaspoon baking powder
1/4 teaspoon salt
9 maraschino cherries
Whipped topping, optional
Directions:
Preheat oven to 375°. In an ungreased 9-in. square baking pan, combine butter and brown sugar. Drain pineapple, reserving 1/3 cup juice. Arrange 9 pineapple slices in a single layer over sugar (refrigerate any remaining slices for another use). Sprinkle pecans over pineapple; set aside.
In a large bowl, beat egg yolks until thick and lemon-colored. Gradually add sugar, beating well. Blend in vanilla and reserved pineapple juice. Combine flour, baking powder and salt; add to batter, beating well.
In a small bowl with clean beaters, beat egg whites on high speed until stiff peaks form; fold into batter. Spoon into pan.
Bake 30-35 minutes or until a toothpick inserted in center comes out clean. Let stand 10 minutes before inverting onto serving plate. Place a cherry in the center of each pineapple slice. If desired, serve with whipped topping.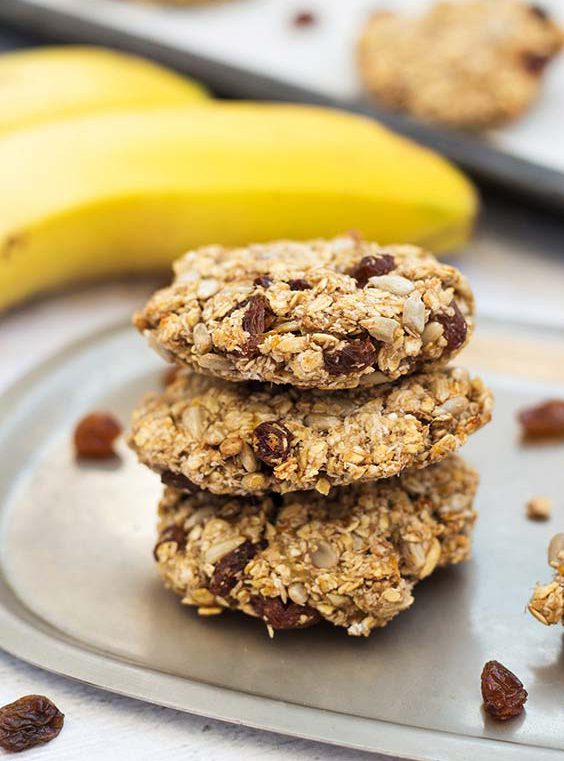 Healthy Instant Oatmeal Cookies
Source: Yummy Addiction
Ingredients:
2 ripe bananas
1 heaping cup (90g) instant oatmeal
1/4 cup (35g) sunflower seeds
1/4 cup (20g) coconut flakes
1/4 cup (40g) raisins
1/2 teaspoon cinnamon
a pinch of salt
Directions:
Mash the bananas with a fork. In another bowl, add all the remaining ingredients. Add the mashed bananas and mix well. Let the mixture rest for about 5 minutes.
Line a baking sheet with parchment paper. Preheat an oven to 350°F (170°C).
Using a tablespoon (I used heaping) spoon the mixture into your hands and form cookies. Arrange on the prepared baking sheet and cook for 15-17 minutes until golden brown. Let cool. Enjoy!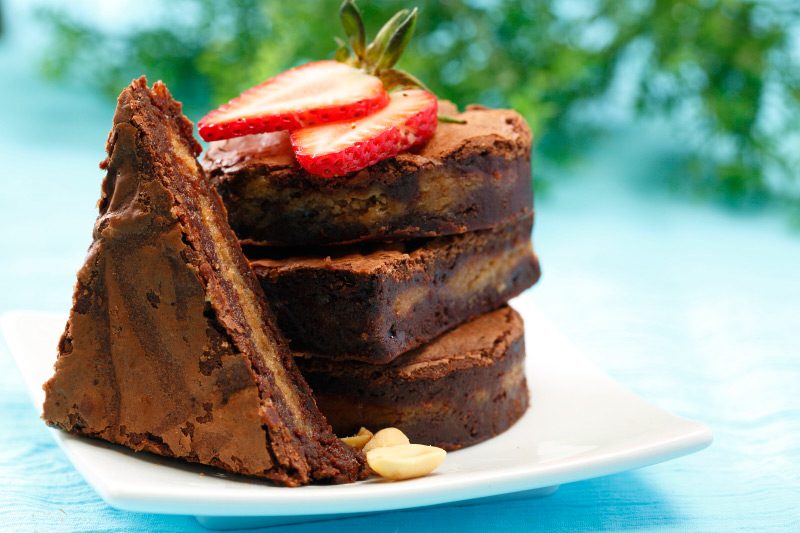 Dark Chocolate Peanut Butter Brownie
Source: Manitoba Egg Farmers
Ingredients:
Brownie batter
½ cup (125 mL) butter
8 oz. (224 g) semi-sweet chocolate, coarsely chopped
½ cup (125 mL) sugar
½ cup (125 mL) brown sugar
3 eggs
2 tsp (10 mL) vanilla
⅔ cup (150 mL) all -purpose flour
2 tbsp (25 mL) cocoa powder
⅛ tsp (0.5 mL) salt
Filling
¾ cup (175 mL) peanut butter
1 cup (250 mL) icing sugar
1 tsp (5 mL) vanilla
2 tbsp (25 mL) milk
Directions:
Melt butter and chocolate in saucepan over low heat or in microwave on high in 20 second intervals. Stir to combine.
Meanwhile, using mixer, beat peanut butter, icing sugar, vanilla and milk together on medium speed to form a thick crumbly mixture. Set aside.
Pre-heat oven to 350°F (180° C). Line a 9-inch (23 cm) square pan with parchment paper. Whisk both sugars into the melted and cooled chocolate mixture. Add eggs one at a time, whisking well after each addition. Whisk in vanilla.
Fold in flour, cocoa powder and salt. Spread on half of brownie mixture into pan. Take large chunks of the peanut butter filling and flatten with your hands. Lay flattened pieces in a layer on top of the brownie mixture in the pan.
Spread remaining batter mixture over top. Bake brownies for 30-35 minutes or until a toothpick inserted into the center comes out clean. Cool completely in pan on a wire rack. Cut into squares.